[an error occurred while processing this directive]
The Institute of History of Philosophy, together with the Centre d'Etudes de la Pensée Antique "Kairos Kai Logos" is organising an international conference entitled "Socrate à l'agora: que peut la parole philosophique ?" (Socrates at the Agora : What purpose does philosophical dialogue serve today?)
The conference is being held in Aix-en-Provence from 7 – 8 December, 2013.
The event aims to determine the role and status of philosophical dialogue in ancient and modern practical philosophy by discussing certain modern practices which draw their inspiration from this model.
Organizing research unit:
E.A. 3276 Institut d'histoire de la philosophie (Directeur Alonso Tordesillas)
Coordinator of the conference :
Mieke de Moor (Université d'Aix-Marseille, Institut d'histoire de la philosophie, France)
Place where the conference will be held:
Aix-en-Provence, France
Faculty of « Arts, Lettres, Langues et Sciences humaines »
Maison de la Recherche
29 avenue Robert-Schuman – 1361 Aix-en-Provence

Duration of the conference : 2 days

Dates : 7-8 december 2013


Publication of the proceedings
The proceedings have been published in juin 2017.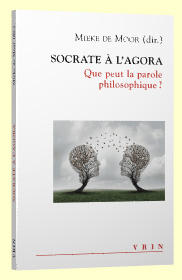 [an error occurred while processing this directive]